to connect to your authentic empowered self
Feeling stuck or blocked in your creative, professional or personal life? Needing to find your flow again? Ready to explore if Creative  Coaching is the right course of action for you?
Keep It Flowing
A writing life is one of risk-taking Each time we take up the pen, we step into the unknown. As Brené Brown says: as a
See More »
Keep It Flowing
The Stinging Fly: Free online advice and information sessions for writers Following on from the 'Getting Started' information sessions we organised last year, these next
See More »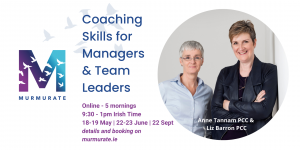 Course
This programme is aimed at equipping Team Managers with the foundational skills to support their team in achieving their shared purpose. To book your place
See More »
I had lost my way in writing my novel and I was overwhelmed and stuck. Anne listened to my various dilemmas and gave me both practical tools— ways of filing ideas and ordering the various chunks of writing—and weird, witchy, mind-expanding methods to get me creating. Having Anne in my corner changed my writing for the better.
"Facing some key decisions around work and life, I was ready to look for solutions from a different perspective, and bring my own creative mindset to the table to work my way through them. My sessions with Anne were thought-provoking and gave me the space and focus to reconnect with what's really important to me."
"Anne provides a clear space where the felt complexities have the right to exist and can be deconstructed safely and without judgment. I've experienced a genuine release of pressures through the coaching sessions and acceptance of life's complexities, whilst discovering new pathways and solutions."